Today was the last stage of the Tour de Kärnten for 2016. Officially it's 102 km and 1060 m climbing but my Edge doesn't believe it and neither do other peoples' cycle computers. I reckon it's 100 km and almost 1200 m. Anyway, the official profile is below (again courtesy of Tour de Kärnten).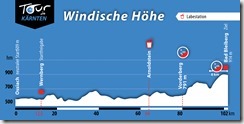 My time was 02:59:09.2, which I was reasonably happy with.
The race went like this. I decided I should position myself better in the bunch for the neutralised section so made sure I was at the start of the B block. I managed to stay fairly close to the lead motorbike until the gun went. Then everyone, as expected, went crazy. The pace jumped from 30 km/h to 48 km/h. People started sliding backwards through the bunch. We were on a large three lane road and whenever we hit a hill the bunch would swell up and take both lanes going in our direction.
I stuck with the main bunch for 35 km but then decided that my legs were getting cooked and that I might be able to stick with them for a few more km but then I'd run out of juice and not be able to ride at any descent speed. Slow me. So I let the bunch ride away and rode by myself for a few kilometres waiting for the next bunch. But there wasn't any… Oh dear.
Luckily a Belgium guy named Lorenzo saved the day and came flying past with two women in tow. I jumped on a wheel and he pulled us like crazy for the next 35 km-ish. We collected a few more people on the way. Around the 75(?) km mark he signalled that we should stop free-loading and take a turn. We rotated for a while at a pace that was pretty hard for me. At the 80 km mark we started climbing and our Belgium powerhouse was gone in a moment.
Our small bunch broke apart and I rode with the Inge, the remaining woman in the bunch, for a while until a guy caught us up and towed us a bit more. Yup, I was determined to do as little as possible. Overall, the last 20 km were hard. Some guys caught up, some rode away again. Near the finish another woman passed us and we all jumped on her wheel. I think there were about five of us at this point.
At the 500 m mark I pointed to my back wheel a couple of times and Inge moved over to it. I intended to lead her out for the sprint but pushed a bit hard and ended up dropping everyone so crossed before the rest of the bunch.
So to sum up the race, the day was saved by a Belgium guy, Lorenzo, and without his efforts I would have been much slower.
Above: Strava has something to say.
I waited at the finish line for Leonie to cross a bit later on.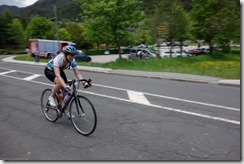 Above: Leonie finished in 3 hours 35 minutes.
Overall, a very nice tour again. My legs seemed to improve each day, which was nice.