We met up with Dieter again in the morning and headed up the gondola to a map in the mountains. We met the majority of the Kiwi Orienteering Team there, Jamie, Penny, Tane, Toby, Lizzie, and Michael Adams. I faffed around on a map for over 1.5 hours proving that I really can't navigate. Emily halved my time and Chris was three times faster winning the course.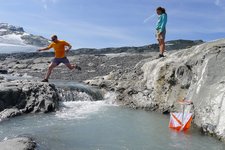 Above: Posed orienteering shot in the mountains above Flims.
We met the Kiwis briefly in the evening again at their luxury pad that Dieter had found for them. We then scuttled off to get some food from the super market which turned out to be closed. Never fear Dieter was there. He knocked on the door attracting the attention of a Frau. Somehow he convinced her to open the door and then proceeded to convince her that they should open up to allow three starving New Zealander's to buy food for dinner. Most amusing. We scurried through the supermarket quickly grabbing what we needed. The rest of the supermarket staff looked on incredulously.