After mostly throwing off the lurgi Leonie and I decided to tackle the Copland track. We drove down from where we had been camping at Fox Glacier after spending the morning walking around Lake Matheson. The DoC signs promised us 7 hours of entertainment but we headed in at a good clip and got there in around 4:45 hours.
We cooked dinner in the hut and went for a dip in the hot pools. I started to get excited about carrying on towards the pass instead of walking out and so we got up early the next day and headed up to Douglas Rock Biv. It was interesting to see the difference in the track. As soon as we left the Welcome Flat Hut highway the track narrowed and turned into a real tramping track, overgrown, washed out, small etc. Douglas Rock Biv is a tidy little hut up the valley nearish the pass. It would be a great place to stay but as the weather forecast was for the weather to turn bad we decided not to stay the night and instead wandered up a little bit further to the pass before turning around and walking all the way back out to Welcome Flat Hut. There we cooked dinner for an energy refuel, I went and lazed in the hot pools again briefly, and then it was back out to Architect Creek Hut where we arrived just before dark. The hut was somewhat less inspiring compared with Welcome Flat Hut and Douglas Rock Biv but it was still nice to have had it there.
We walked out the next day and drove North stopping in Arthurs Pass for lunch at Kennedy Lodge.
Above left: Leonie and I tramped into Welcome Flat Hut on the Copland Track. The weather was great and we made a mockery of the DoC time arriving in the evening after walking 4:45 hours instead of the prescribed 7 hours. Above middle: Leonie has a quick drink from a stream on the way into Welcome Flat Hut. Above right: Leonie dips a toe in the Welcome Flat hot pools.
Above left: Cris posing in the delicious thermal pool. Above right: After dinner in the Welcome Flat hut.
Above left: Night time at the Welcome Flat Hut. Above right: The track to Welcome Flat hut is a highway but the track leading from there onto Douglas Rock Biv is much more rugged. Ok, this picture doesn't look that rugged…
Above left: Ok, that's a little more rugged. Leonie navigates the stream. Above middle: The track into Welcome Flat hut was very ferny. There were less ferns on the way up to Douglas Rock Biv but still a few. The vegetation was generally more mountainous… not surprisingly. Above right: Cris does some posing on a bridge just before Douglas Rock Biv.
Above left: Leonie takes a break at Douglas Rock Biv. We had some lunch down by the river and then walked a little further up towards the pass from here before turning around. Above middle: Leonie finds a patch of snow near Douglas Rock Biv. Above right: The ground near the pools is full of funky brown colours.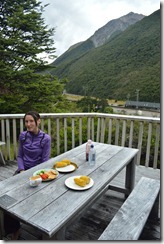 Above: After finishing our tramp into Welcome Flat Hut we drove through Arthur's Pass on our way back to Christchurch and stopped for lunch at Kennedy Lunch.