The rain had cleared after the race yesterday and it was fine again although a little chilly. The race was neutralised to begin with again and my legs had a chance to warm up slightly which they needed. The race started and the bunch held together for the first bumps. My legs were feeling tired and I considered taking it easy but as we began to climb I made sure I stayed with the front bunch as a big group of cyclists broke off. After a fairly long, perhaps 5%, climb the bunch had broken apart and I was with a few others. I rode with them for the rest of the race.
The course was very nice. After the climbing was over we had a fantastic descent, steep, then gradually descending with a good tail wind. Lots of green and sun. Then a steep descent once more. We then turned off onto a smaller road and started climbing again, followed by flat, and then a descent before a short sharp climb to the finish line. This was the most enjoyable stage so far due to the nice descent.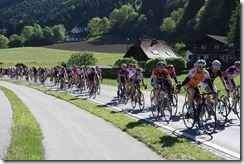 Above: Heading off neutralised on Stage 5.
Tour de Kärnten Stage 5 – Time: 2:33:50 (official time: 02:11:14.5) Dst: 79.8 km Avg: 31.1 km/h Max: 76.7 km/h Ascent: 1242 m Avg Cad: 85 Place: 51 (overall men) 24 (open men)