We left Porto in the morning and headed South along the coast. We probably got 5 km away before the prettiness overwhelmed us and we had to stop. We unpacked the bikes and rode back to a nice stretch of road with steep red rock cliffs all around. We locked the bikes and went walking in the hills for an hour or so. Then it was onwards further South and then back into the hills to Zonza. We stayed the night there.
Above left: We set off in the morning for a quick ride along the coast before having some yummy fruit and yoghurt for breakfast back at the camp. Then it was into the car and we cruised off until we found these very funky rocks. So funky that Leonie went and bumped her head hard against them. Above right: Leonie did some posing.
Above left: We locked our bikes below on the road and went for a walk up into the hills a bit. Lots more funky rocks and we had a nice view back out to the coast. We returned to our bikes and road back to where the car was parked and drove onwards. Above right: The coast had pretty looking water but it was so hot and the sun so intense that we didn't venture down to the beaches.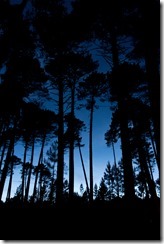 Above: We drove on to Zonza and camped the night there at a camp site in a pine forest.