The sun was out by the time we left the hut and collected Craig at his tent down by one of the lakes. We went and checked out the Fieldfarehytta. It was a hut used in the war by three Norwegians to hide from the Germans. There would be no hiding today. It's built against the cliff down by a lake and is hard to pick out if you don't know it's there.
We then headed away from the lakes following a winter route through the hills. We got a bit confused by the trails that weren't marked on the map but managed to not get too lost. The last few hours were spent walking along the edge of a turquoise lake.
We reached the road in the evening a few kilometres away from where we started. We walked back to where we had camped in Billingen and Craig headed up the road to Grotli where he would catch the bus at midnight. I cycled back up the road and met him late in the evening to cook dinner before cycling back to our campsite and crawling into bed about midnight.
Above left: Not far away from Veltdalshytta was another hut down by the lake that was very small and had been used in the war to hide from the Germans. There was no hiding today as Leonie had a look at it too. Above middle: The sun was out and we took a winter route back out of the park. Above right: We managed not to get lost despite the route markers going off in a different direction.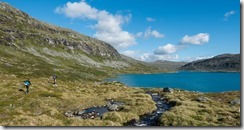 Above: There were a number of very pretty lakes on the way out.