It was sunny when we woke up. We cycled into Åndalsnes in the morning with a big list of jobs and unfortunately we didn't get back to our campsite until midday. This was unfortunate because the sun was still out and it was warm. We quickly had breakfast so as not to miss out on anymore nice weather and then it was off up the Trollstigen. The blue sky of course vanished and it got grey and cold and began to rain again…
The Trollstigen is a well known windy road heading up into the mountains. The surrounding mountains have been used by wing suit pilots and as we were riding up there were three of them and a film crew. At the top of the ascent we continued on further into the hills. The descent would have been very nice in good weather as there is much green on either side of the road. It was a bit cold in the heavy rain.
We headed off the main road at Grønning and sheltered in somebodies open garage where we repacked for tramping. We rode to the end of the road and hid the bikes in the bush. We then wandered into the DNT hut named Tjønnebu and shared the hut with a couple of Norwegians.
The hut had a very impressive toilet with, if the wall is to be believed, an award for best toilet over 900 m.
The hut was warm and it was nice to be inside rather than in our tent.
Above left: It was a sunny day with blue sky and everything. Above middle: We headed up the Trollstigen road. Above right: The Trollstigen is very windy.
Above left: We looked down at the winding road from the top. Above right: The valley seems popular with wing suit pilots and we saw three of them jumping and a film crew.
Above: We walked into a DNT hut named Tjønnebu in the rain and sheltered there for the evening.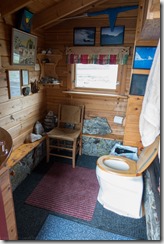 Above: Tjønnebu has the best toilet above 900 m according to the award in the frame to the left.