Leonie and I entered the Muttersberglauf again this year. Last year it was a race on the world cup mountain running circuit. This year it was just a local club race. It was sunny and hot at the sparsely populated start line. I was determined to do a better job of the race than last year although I haven't done a lot of running this year. I set off quickly trying to stay near the front going into the first hill. My legs felt ok compared to last year.
My heart rate stayed around 180 bpm for the whole climb which these days is high for me. I managed to pass a few people at the beginning of the ascent and didn't drop back too much during the race. I was surprised when the route deviated from last year and even more surprised when I was suddenly running over the finish line. Unlike last year instead of ending at the small hut near the summit of the mountain we finished at the gondola station.
I was happy to be finished but a bit dissapointed that we missed the steep section to the hut. I had been thinking I would need to slow down and conserve some energy. Leonie arrived at the finish line a few minutes later.
We wandered off up the mountain to last year's finish line and then continued up to the summit. On the way back down we met Josef from the Hohenems running group who said that Leonie had come first in her category and that there had been prize money… Ooops…
It turned out she had come first and last in her category. I took 8th place in my category out of not many more people.
Apparently I'm not pretty enough as the organisers didn't post any pictures of me online. They decided Leonie made the cut though so here's one.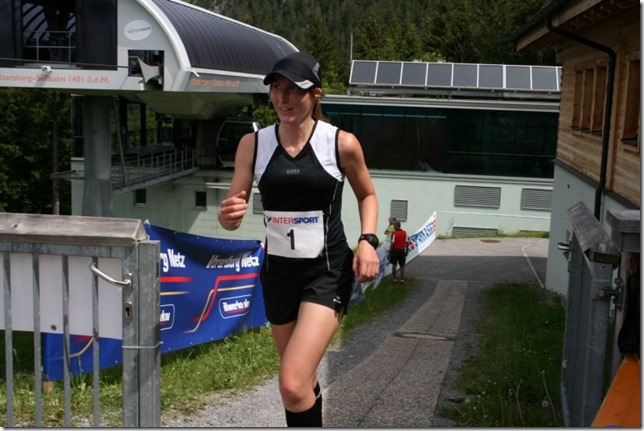 Above: Leonie crossing the finish line.
Muttersberglauf_2018_Einlaufliste Muttersberglauf_2018_Ergebnissliste
Muttersberglauf 2018 00:51:53 Category Place 8/10, Overall place men 24/76