After our dolomites mission we spent a couple of days climbing in Arco. It was like returning to summer. We arrived in the afternoon and camped at "the zoo" which is right next to a huge line of cliffs full of climbing and about a kilometre from Arco. We made a sensible start by going out for pizza in the evening.
The next day we drove into the hills above the lake stopping near where Frauke and I, now almost 10 years ago, went mountain biking. I've been in Europe for a long time.
We walked down a busy rode and where it disappeared into a tunnel we followed a small side road. We branched off and went upwards to the start of our climb (named Kain und Abel). It was an interesting, well bolted, multipitch route with great views. This meant enjoyable climbing and low stress. Perfect.
Above left: From our happy multipitch we could see down towards Lake Garda. It's the bit of blue in the distance. Above right: The climb was well protected and not particularly difficult.
Above left: The climb was interesting. Above right: From the top we were able to walk back down a track to the road.
The following day we did another multi pitch climb (the via Calliope) which felt much more scary. I lead the first pitch. Someone had removed the bolts at the top so I set up something around a tree. Johannes wasn't keen on leading the next pitch which was up a scary slippery chimney which wasn't well protected. I scrambled up it not enjoying it at all.
I lead the next pitch which also wasn't much better, starting with a traverse that you couldn't protect. The climb itself was very funky and technically not so hard just not protected to the level I'd had liked and occasionally a bit polished.
I continued leading the following pitch also which was the crux but had nice big holds. Johannes lead the next one but stopped half way due to rope drag and set up an anchor around a tree. One of his placements between bolts was laughably bad. He had placed a friend into a small groove in the rock so that it faced up out of the rock. He didn't have any other choice though. It was a case of not protecting it at all or putting in a dubious bit of pro. Probably others wouldn't have been phased by the amount of bolts but I found it a bit sparse.
The pitch was cool but the rock looked unstable and like it might randomly break. It looked like it had been put down in a big pile with random bits sticking out and looking a bit loose.
I lead the last pitch and set up a final anchor around a tree. Julie and Phil arrived not long afterwards and we walked back down to our campsite.
Above left: This pitch was scary. I lead up through a chimney with polished sides. The climbing wasn't particularly difficult but it wasn't that well protected and I was not keen to go hurtling down towards Johannes. Above right: Someone had chopped the bolts at the top of the first pitch so I had to set up an anchor around a tree near where Phil and Julie are standing.
Above left: Julie almost reaching the anchor on the 2nd pitch. Above right: Johannes was forced to make this dubious placement for lack of anything else.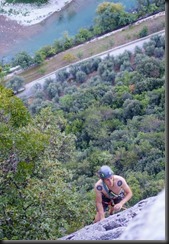 Above: Phil leads the last pitch.
Johannes and I drove back to Lindau the following day and left again in the evening for the last time, getting ready for his new life in Norway. I packed for my Croatian holiday.