We spent the morning hiding from the rain in Schwyz. Day 1 was a street sprint around the "old town". Chris was reasonably happy with his run and thought he navigated ok but didn't run as fast as he would like (I blame our Triglav mission). Emily was not hugely excited by her result but thought it went ok. I'm not entered in the event so I moped around trying to avoid the rain. Schwyz is home to Victorinox, the company that makes the swiss army knife. I spent some time becoming familiar with their complete line of knives which happened to coincide with a particularly wet patch of weather. Others had the same idea. I have a new Spartan T2 pocket knife.
Above: Emily in action.
Below left: Emily, Seline, and Chris after the first stage. Below middle: Cris, Chris, and Emily after the first stage. Below right: Emily and Chris.
After the event Chris managed to wangle a bike from a South African friend of his. I collected it from the hills and rode to the Muotathal valley where I met Chris, Emily, and Keith. We are sharing Keith's campsite amongst a sea of tents. We're in the British block. After tea, we escaped from the rain in a large tent with some Swiss guys. Then we went and visited some aussies. I enjoy having a mix of nationalities around.
Above and below: The Swiss O week camp site without rain.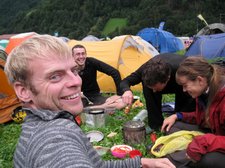 [gmap lat='46.973601′ lon='8.748141′]