Craig came to visit over the weekend.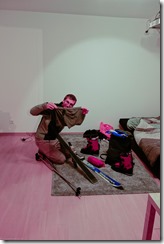 Above: Craig borrowed my touring skis. To get them into shape we polished them up using my undies. Perfect.
On Saturday we drove to Pitztal and took the lift up to the glacier there arriving at 2800 m above sea level without breaking a sweat, unless you count the sweating when we learned that it would cost us 30 EUR to travel up with the lift. Anyway…
The weather wasn't too bad and we headed across the Mitelbergferner and slowly up towards the Linker Fernerkogel. Leonie and I had been here before. It's a very nice ski tour.
Maybe the change of height was affecting us because we all felt a bit grotty on the way up. Still we made it to the pass and had some lunch there before continuing to the summit. It had snowed again recently and we had a delicious powdery descent avoiding the crevasses all the way down the Hangender Ferner. Then we followed this up with a fantastic descent back down to the car park in spring snow conditions.
1) We took the "gletscherexpress" up to the glacier and skied to the edge of the ski field. We put our skins on and got ready to ascend to the Linker Fernerkogel. That's it in the background. The route heads up around the back to the summit.
2) We took a break at the saddle. Craig had all my old gear, straight out of the 80s.
3) Us at the summit.
4) We had a steepish descent down from the summit to the glaciers below. Craig had the misfortunate of using my old skis.
1) Leonie skis down the Karlesferner keeping well away from the large hole on the right.
2) We skied down off the glacier into spring. The snow was wet and Craig and I enjoyed racing down the narrow track. The snow ran out entirely at the end and Craig did his best to grass ski. We stopped for a drink in the sun at the happy ice cream on the right.
3) Leonie navigates the spring conditions at the bottom of the run.
Above: Our route.
On Sunday we went for a short walk from Schuttanen, across the border, in Austria and got rained on a lot. We walked up Bocksberg and back.
1) On Sunday we went for a very rainy walk from Schuttannen in Austria. We walked to Bocksberg.
2) The weather was very very dreary.
3) At the Bocksberg summit.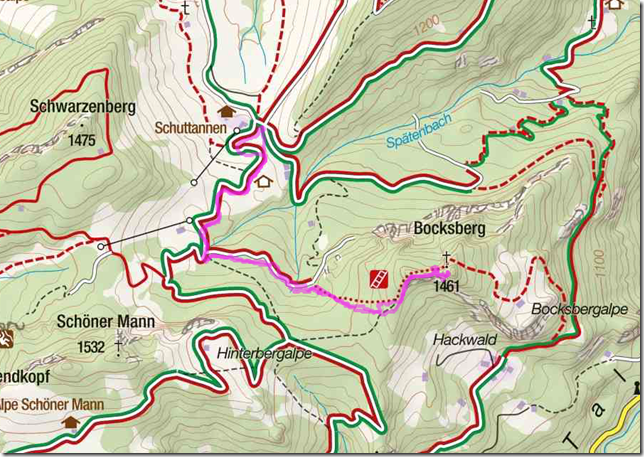 Above: Our little rainy walk.