Today's stage started in Bolzano again. We headed out to the start shortly before 8 am and then rolled with the group up the same valley towards the Brenner Pass. We turned off right much before the pass and cycled up a nice but quite steep road to the first refreshment stop.
After many a melon we were refreshed and the timed section started a bit further up the road. I started right at the back which was good for my ego. I panted and grunted past a large portion of the field. Apparently I placed 15th in my category.
There were more melons at the finish line and after a small rest Leonie and I decided that we would rather cycle down in front of the race car so that we could cycle at a sensible pace. We had a nice descent and rode the rest of the stage to the finish. The other advantage of arriving back early was the lack of queue for lunch.
We cycled back to the camp site in the afternoon and blobbed.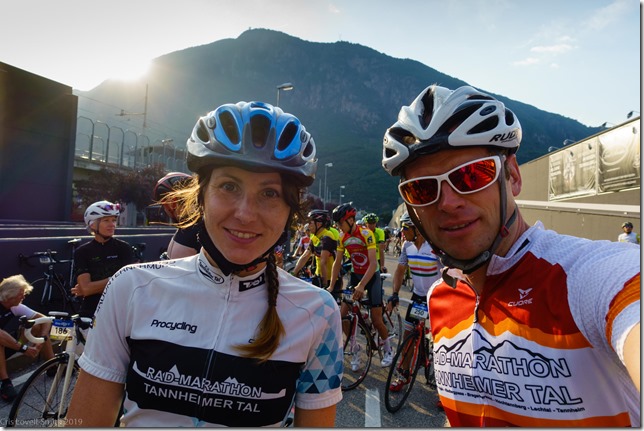 Above: Another stage, another start photo.
1) The route took us up into the hills along a road that I'd ridden partially in the past. I think…
2) The road climbed steeply in parts.
3) We left the more familiar roads and continued cycling upwards.
4) Then it was time for our usual refreshment stop. It had been set up in a farmer's meadow with a view up to the mountains.
5) Many cyclists in a field.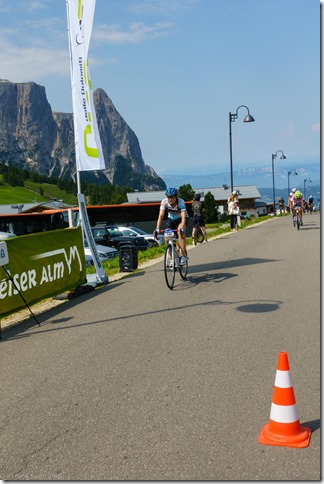 Above: The section after the refreshment stop was timed. We were free to start when we wanted. I hung around the back waiting for the crowds to depart before cycling up to the pass. The road ascended gently to begin with but picked up further into the climb. I must have passed Leonie on the way as I think I started after her. Here she is about to cross the finish line.
Giro delle Dolomiti 2019 – Stage 5