It was a warm Autumn day perfect for a little cycling mission. As it turns out that mountain biking is a dangerous sport, Anna and I opted to go road cycling. We cruised out to Tuniberg and back to Freiburg.
Tuniberg – Time: 02:39:19 Dst: 64.12 km Avg: 24.15 km/h Max: 48.42 km/h Avg cad.: 71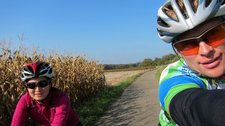 Above: Cyclilng with Anna near Tuniberg on a warm Autumn's day.