Leonie and I left our campsite at Zlatorog in Slovenia and drove back to Austria. We stopped at the Ossiacher See near Villach which is where the Tour de Kärnten takes place. I'll be taking part in it over the next six days.
The weather was delicious, blue sky and patches of white and grey clouds. We found a camp site not far from the race base and went and registered. Today was a 20 km time trial. I started at 3:30 pm amongst a bunch of fast looking bikes. They noted that I was from New Zealand and then it was go. I crawled along and was passed in the first quarter by a guy who made me look like I was riding backwards. Still, the route was quite nice. It was 10 km of undulating road surrounded by green. I ended up finishing in 33:38 mins after being passed by two people. Quite fun and the effort was rewarded with some quality lazing back at the campsite with Leonie and ABC soup for a quick salt replenishment.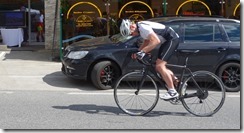 Above: The Tour de Kärnten is a 6 day tour in Kärnten, Austria. Here I am starting the stage 1 time trial. It's 20 km with a turnaround at 10 km and 300 m of climbing over the 20 km. I finished it in 33:38 min after being overtaken by a couple of speedy types.
Tour de Kärnten Stage 1: Time: 00:33:37.8 Dst: 21.3 km Avg: 37.2km/h Max: 55.1km/h Ascent: 280 m Place: 29/36 (open men)


Above: Strava statistics.