We headed off in the morning up the Col di Bavella on our bikes from our campsite just outside of Zonza. We had a quick approx. 600 m climb to the pass where we had a bite to eat and tried to avoid the hordes of tourists. Then we went for a wander along part of the GR20 walk. We headed up to a col first, past an interesting looking sport climbing crag. We then picked our way up and down over rocky (and according to Leonie spooky) terrain towards another col (Bocca Pargulu). We were in billowy cloud the entire time. Occasionally we'd get glimpses of the mountains ahead and then the they'd vanish. It probably added to the walk though, rather than detracting from it. The cloud vanished at the second col and we descended and finished the loop-track in the sun. It was then just a quick descent from the pass back down to our campsite.
Above left: We jumped back on the bikes in the morning and road up the pass for some more wandering fun. Above right: We locked our bikes at the pass, had a bite to eat, and went strolling.
Above left: Some more posing was done. Above middle: We headed up  to another col above the first pass. Above right: I did a bit of rock scrambling.
Above left: Leonie also did some rock scrambling. There was a section with a chain which we had to climb down. Above middle: It had been very foggy but at one point the fog suddenly cleared and we could see all the funky things around us. Above right: But then the fog came back again.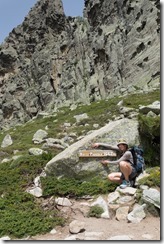 Above: We reached another pass and did some more posing.