The last race for the season, perhaps. I headed out with Florian and a bunch from RIG Freiburg. The race in question was a 11 km mountain bike hill climb (approx. 11.5 km, 800 m climb). I felt a little out of place as I positioned my sturdy full-suspension bike next to a line of carbon hard-tails. The race went alright. I managed to hold the first female at bay… just… Pahhh, carbon hard tail.
After invoking the ancient art of "kaffee und kuchen" we rode back to Freiburg by the Kandel höhenweg.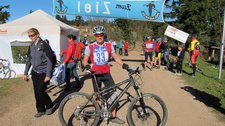 Above: After the hill climb race.
SC Kandel MTB hill climb – Time: 0:56:28 Dst: 10.62 Avg: 11.5 km/h Max: 56.93 km/h