Today was the fifth stage of the Tour de Kärnten. It's known as the "Wintersport-Runde" and is 94 km with 1400 m of climbing. The profile looks like this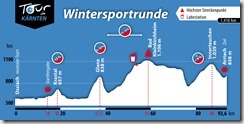 Above: The height profile of the Wintersport Runde 2016 courtesy of Tour de Kärnten.
The sun was back although it was a bit fresh at the start. The first 10 km or so were neutralised again. I stopped for a pee near the end of the neutralised section and ended up some way back at the beginning of the first hill. Ooops. Anyway, I cruised along with the bunch that I ended up with all the way to the finish line. The stage seemed to suit my legs a bit better.
The climb out of Radenthein seemed not too bad and I found myself riding off the front of the bunch for a bit. I made sure I did no work on the long flat descent and then managed to stay with the bunch on the last longer climb. I stayed near the front for the last descent and jumped on a few wheels and then was in a good position for the last 200 m up hill to the finish. I put a bit of distance between me and the next guy and crossed the finish line in first… Ermm… first in my bunch… so really, something silly like 124th of 241.
I wanted to compare my result with the last time I rode the stage in 2014 but the organisers have cunningly snuck in an extra 14 km and perhaps 300 m more climbing. Very cunning.
I finished in 03:14:41.2. Leonie finished in 03:50:22.8.
Above left: This is what happens when you shoot RAW with a Sony RX 100. It sometimes takes a long time before taking a photo. Or was Leonie just super speedy crossing the finishing line? Above right: Leonie looking pleased to be finished.