I went on tour with the Ski Club Bollschweil Sölden for a few days. There were six of us; Elmar, Rheinhard, Siggi, Birgit, Helga, and myself.
We drove to Vent in Öztal, Austria on Thursday morning. It was sunny as we left the car park around 11 am and ascended up the valley towards the hut. The sun was beating down on the snow as we climbed and at some point it triggered a mini avalanche above us to make sure we were on our toes. The falling snow didn't reach us though and we continued onwards.
We reached the hut early afternoon and lazed there. I snuck out for a very small tour again and took some photos. The hut belongs to the Berlin section of the German alpine club and sits at 2501 m. It opens for the winter season in March until the middle of May and sleeps 81 people in the mattress area and 33 in beds. It is situated near the border to Italy (Süd Tirol) and at 3019 m above sea level to the South is the Similaunhütte on Italian soil… errr snow.
The ascent from Vent is about 650 vertical metres over 8 km. Apparently it took us 4 hours.
Above left: We set off from Vent around 11 am with plenty of sunshine and blue sky. We headed up the valley towards the Martin Busch Hütte. Above right: The track went up the valley perhaps 50 metres above the valley floor.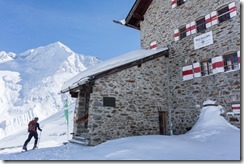 Above: The Martin Busch Hütte is at 2501 m and is owned by the Berlin section of the German alpine club.