Today was the last stage of the 2022 Tour de Kärnten. It was short and steep, a 16km hill climb time trial up the alpine road to the mountain Dobratsch. I've done it before. I rolled to the start line with Michael and Dana. We started in groups of 30 at five minute intervals. My legs felt pretty tired but I wasn't too displeased with my performance and managed to get away from most riders in my group. Michael came flying past about 3/4 of the way to the top having started in the faster group behind me. The temperature dropped as we climbed and the top 3rd of the course was misty and damp.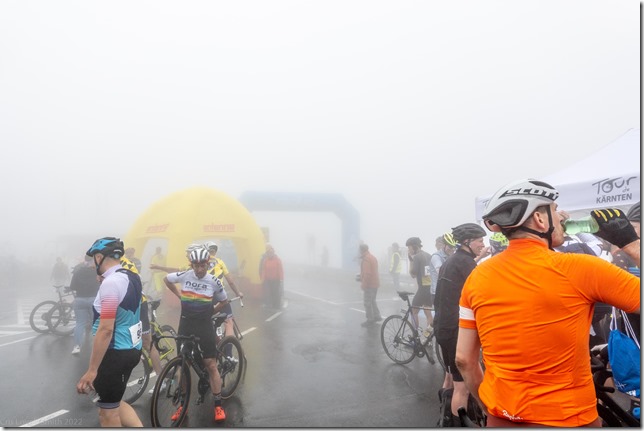 Above: Quite a contrast to the previous days. The hill time trial up Dobratsch ended in mist and low temperatures.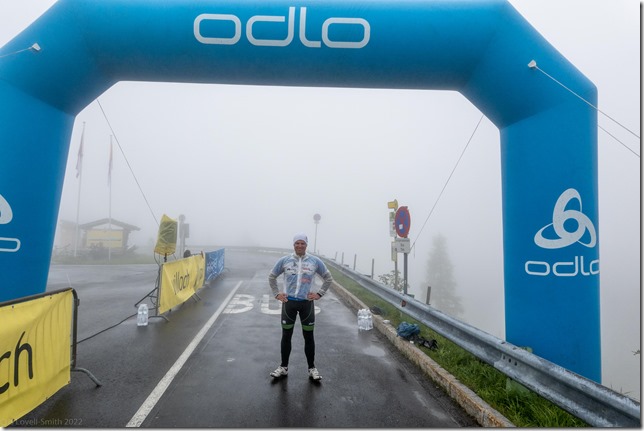 Above: The cold didn't stop me posing.
Tour de Kärnten – Stage 6 – Mountain Time Trial Dobratsch
Gun time: 01:09:53.9 Dst: 16 km Avg: 13.8 km/h Max: 53.4km/h Ascent: 1150 m
Rank: 141 Category: M40+ Category Rank: 18
Splits 0-5km: 00:20:08.1 5-11km: 00:27:16.2 11-16km: 00:22:29.6
Overall results:
Rank: 142 Category Rank: 18/28 Total time: 16:07:42.2