What could have been a miserable stage turned into a very enjoyable one. At the start line, I had the feeling I'd been carbo loading on salad. In reality, I'd been eating pasta and salad but somehow I felt like I was missing a few calories. I guess the last two days have been fast stages though so perhaps this had something to do with it.
We started in the same direction as yesterday but unlike yesterday, for reasons unknown to me, it was neutralised for the first 8km. I thought this would be a good thing given the pace off the start line yesterday. It was definitely slower, however, there was the usual stop-start as the bunch stretched and compressed behind the lead car. My head wasn't in it to begin with and the fun factor wasn't there. I felt like I was too tired to navigate the many wheels in front and behind me. But then I pulled myself out of my calorie deficit using the power of haribo. Surprisingly, with just a few jubes I seemed to come right.
The stage was fairly flat again with a couple of bigger climbs. My new Edge 530 tells me when climbs are coming and shows me a profile, which is very helpful. A climb was coming up and thinking I would slide off the back I decided to at least slide through the group giving myself more of a chance to hold on. The haribo had worked it's magic though and instead of sliding back through the bunch I stuck with them and moved forward. Weird.
I found myself riding with Dana and Michael later who'd been in the next bunch up the road. Our bunch had caught them up. There wasn't much time to chat before we hit the next climb. Again I managed to stick with the group ending up near the front over the couple of kilometres. I was at my limit and I could hear Dana working hard too. Michael was nowhere to be seen. After the climb came winding descents that were both fun and sometimes slightly sketchy.
We continued at a fast pace, which perhaps is one of the reasons it's hard to remember the exact course. Finally, a right hand turn and we crossed a bridge close to the final climb. Suddenly Michael was there again, having somehow caught up to the group through some sort of witchcraft, probably. Michael sprinted up the road to check whether the "Tiroler" women up in front where close enough for Dana to be able to make a difference on general classification. Apparently, not.
Going into the climb it was just the three of us plus Dani who I'd ridden with on the first day and somewhat lead out in the sprint yesterday. It was decided that we weren't in a hurry given the GC situation and we chatted as we rode up the hill. Well, mostly Dana and Dani. I concentrated on not having my legs blow out.
No finish sprint and we all rolled over the finish line pretty close together. A surprisingly enjoyable stage given the salad carbo loading feeling in the morning.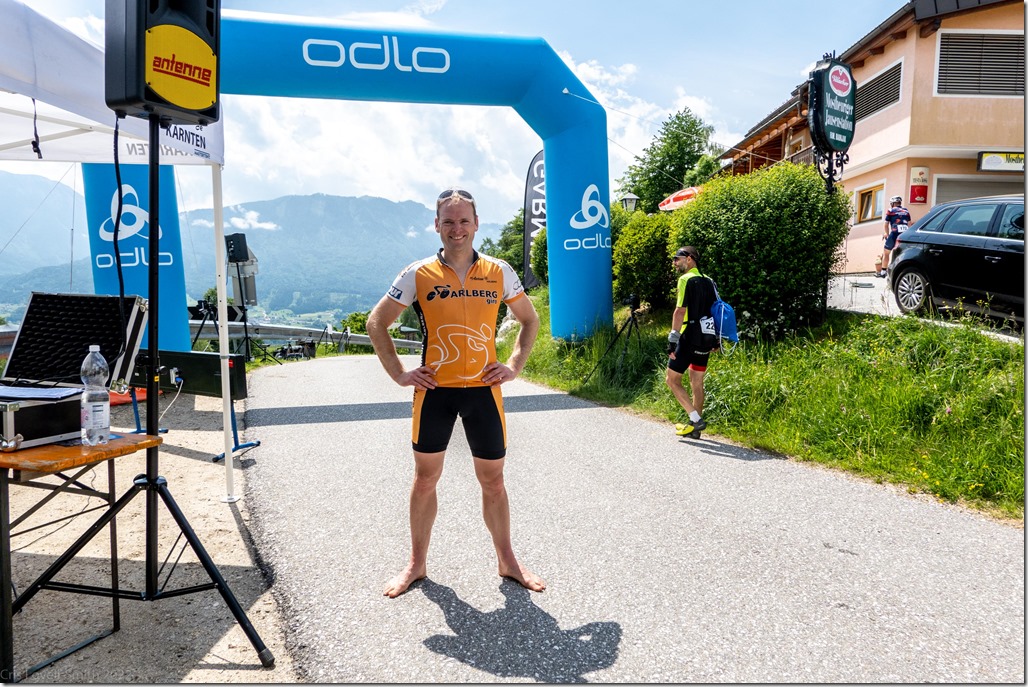 Above: It was a good stage and my legs behaved themselves.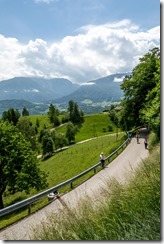 Above: The stage ended with a hill climb that was more pleasant than Magdalensberg.
Tour de Kärnten – Stage 5 – Drau Runde
Gun time: 02:51:34.8 Dst: 89 km Avg: 31.0 km/h Max: 83.1 km/h Ascent: 1516 m
Rank: 129 Category: M40+ Category Rank: 15
Splits 0-28km: 00:50:07.9 28-59km: 01:04:21.0 59-89km: 00:57:05.9