Another Tour de Kärnten after a three year break!
Breaking with tradition, this year's Tour started at the Faaker See. This was good for me as I took the train here from Lindau and the Faaker See is much easier to access by train than the Ossiacher See. Who knows what I would have done otherwise. As you might imagine, I have a lot of stuff. I have my bike and a large bike bag for transporting it, my Katie-tent, the old trusty somewhat-less-waterproof fairydown tent I bought off Katie, far too much clothing, my laptop, and a couple of cameras. Very restrained on the last one. Anyway, I got here and today was the first stage of the tour.
As usual we left the start neutralised. I'd been given a C block start. We rolled along for 17 km towards Villach, through, and out via a familiar road from previous starts from the Ossiacher See. I was so far back that I didn't hear the race gun. The pace increased and as per every year I found myself needing to get around slow cyclists. I've moaned about it before many times but the start position has a big influence on the bunch you end up in and potentially then your finish position. But nobody likes a whiner. So I put down the power and was happy to see my legs where eager.
I probably cooked my legs a bit much considering there are still 5 stages. There was a crash not far in front of me near the start. I got through it pretty quickly and continued and tried to bridge across to groups in front. Others sat on my wheel. I got across to a few but then was a bit pooped. I rode behind someone as we almost gained the back of the group but then he wilted resulting in us both falling back. Ended up riding near the back of the group to give my legs a bit of a rest.
We turned right and started ascending a major climb. I remember one race where I overtook people here but this time I struggled at the back dropping off before slowly riding back on. I passed a few people as it dipped and then kicked up again. Soon I was riding alone with a group tantalising close in front but not close enough to get over to. I fell back to a few behind me. The group in front was creating a line of cars banked up behind them which worked to our advantage and we caught up to the cars and then drafted our way past one by one.
The road steepened and the road was free but we were still behind the group by perhaps 200 m. I stamped on the pedals and accelerated down the gently winding descent topping out at over 70km/h. I got close to the group but still not close enough. A guy caught me and we started working hard to catch up. This part of the stage is a nice very slight downhill and in past tours it's been a fast section stretching for many kilometres. Today we were blessed with a strong head wind. We eased off and a few caught up and five of us worked together to try and catch the group up. It's a fool's game, going hard and burning plenty of energy to try and catch up when they're 30 people and we're just five. They got away but we didn't ease up. After a final steep descent we had a sharp right hand bend which one of us failed to take heading straight down the main road.
The road turns up a valley and it's actually a really nice ascent with meadows and forest on either side of the road. At this point my legs revolted and I promptly fell off the back of the group. Stragglers began to pass me as I slowly cycled up the valley. I held on to a couple of riders for a bit but then they were gone too. One final steep climb and then a lovely flowing descent. I could see a group behind me and descended quickly hoping to keep away. A final right hand bend and another sharp climb and they all passed me. My legs had nothing more going into the finish line. I've sprinted the last 100 m in the past but not today.
The weather was fine with fluffy white clouds which made the little church in the township of Arriach look quite picturesque. I hung about for a while waiting in a long queue for food before rolling back down the hill and taking a round about way back to the Faaker See courtesy of Google's navigational choices.
Above left: For the first time in the history of the Tour de Kärnten we started at the Faaker See. Above right: The stage finished in Arriach. I had nothing left in my legs for a sprint across the finish line.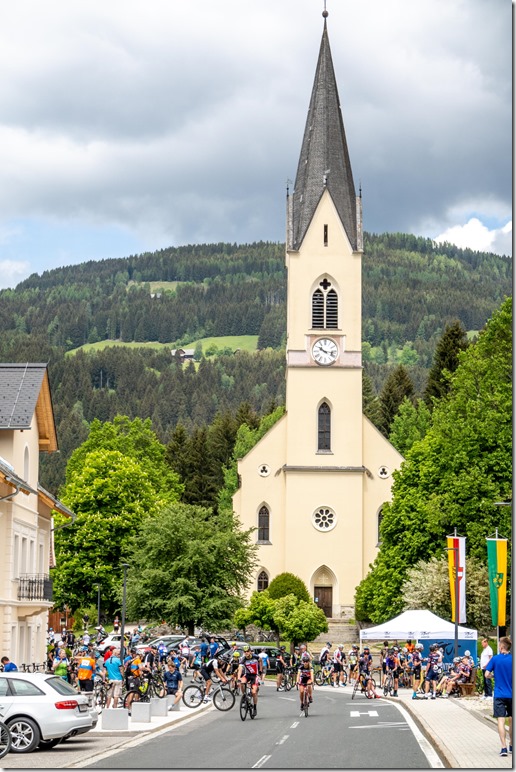 Above: I've finished here in Arriach a few times. It's very picturesque with its church.
Tour de Kärnten 2022 – Stage 1 – Gerlitzen Runde
Gun time: 02:55:56.8 Dst: 88 km Avg: 30.1km/h Max: 74.5km/h Ascent: 1308 m
Rank: 169 Category: M40+ Category Rank: 21
0-52km: 01:41:28.5 52-82km: 01:04:44.1 82-88km: 00:09:44.2