I went out for a spin-around with Greig on the Tuesday World's. As Evan's pass is closed they have a new route around the bays to Lyttelton and back over Dyer's. We met Chris, Em, and Al on the way riding the other way two hills before we got spat off the back of the bunch. Oh old age is a horrible thing… All these young fit lads. Curses… Maybe next week will be easier. Still I was happy how light and responsive my carbon steed is compared with my aluminum dunger in Germany.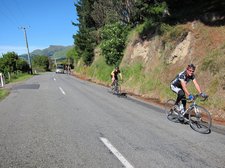 Above: Chris and Greig riding at a leisurely pace after we dropped off the back of the bunch.
We headed down to coffee culture to continue talking crap loudly. Ahhh it's good to be back. I went and visited young Katie afterwards and we schemed tramping trip schemes. The evening was filled with more crap talking at Greig and Clare's with Al and Amber.
New Tuesday World Route_web[maptype=G_HYBRID_TYPE]
Above: The new Tuesday Worlds route goes out to Lyttelton but then back over Dyer's. We turned around to Lyttelton due to old age and laziness…