In February 2008 Gina and I spent 10 days on Hen Island off the coast from Whangarei. We were volunteering for the NZ Department of Conservation (DoC) helping with their weeding program. DoC maintains a number of islands in the group known as the Hen and Chickens. At some point exotic plants were introduced to the islands. If left unchecked these weeds would out grow the native plants. The most common weed is called Mexican Devil and most days we pulled out many of these.
There was a group of four volunteers and three DoC staff on the island. The DoC staff were James, Norton, and Pat and the volunteers names' were Suvi, Jenn, and Sophie. For most of the time Gina, Suvi, Pat, and I formed a team as we were the fitter of the volunteers.
We were based on "Hen West" at a camp on the western side of the island. It took a few minutes to walk from the camp down to a bouldery beach where we could swim in the sea. We had a good time although, for me, ten days was long enough to be on the island.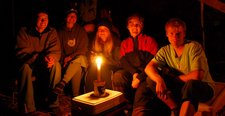 Above: Sophie, Jenn, Suvi, Gina, and Cris at the camp one evening. We volunteered on Hen Island for 10 days in February 2008.
Below: The crew: Pat, Cris, Gina, Suvi, Jenn, Sophie, and James. Pat and James work for DoC. Norton was the last member of the group and also works for DoC but he is not in the photo.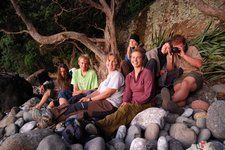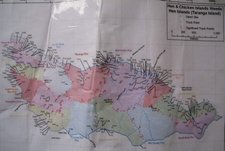 Above: A map of Hen West showing the weed sites marked with Txxx. We had to navigate to each site and remove any weeds noting how many were there.
Above left: Norton used the little dinghy to catch fish. Above right: I took a bunch of long exposure photos looking out from the beach back towards the main land. I like the misty look of the water.