I had some friends over for pizza and a round of Death Pudding.
Above left: Eating pizza with the lads. Above right: Chatting.
Above left: Julian shows Anna how one makes Death Pudding. Above right: Anna and Oli starting to feel the effects of the pudding.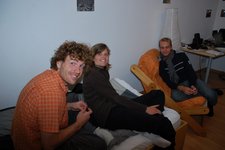 Above: Basti, Waltraud, and Jakob.
Above: Sophia and Solli try a few spoon-fulls of Death.