On Thursday evening Leonie and I went and saw the Cat Empire playing in Zurich. They were good as usual and we bopped heartily to their music. We stayed the night near Zürich before driving to Italy on Friday.
Above: We saw some Cat Empire goodness in Zurich. Yay.
Above: The Cat Empire play Steal the Light.
We stayed the night at Lago di Lecco in a mountain hut on Friday night. The weather was a bit rubbish but despite this we set off on Saturday in search of a via ferrata. We headed up the first we came across towards Rifugio Azzoni. Leonie survived the spooky stuff and we trudged through the mist along the tops arriving at the mountain hut. We ventured in and found a bunch of very merry Italians celebrating something with lots of wine. We stayed for a cup of tea and some wine that was offered to us before heading on down.
On our descent the mist cleared and we had an awesome view out over a sea of cloud. It was like a huge boiling soup. Every now and again the soup would boil over spilling over the edge of the hills. It's probably much easier to show a picture than describe… So I'll do that…
Above left: The weather wasn't too bad on Saturday so we headed off from the mountain hut where we had stayed the night up to Rifugio Azzoni. The route was a bit of a scramble. Above right: The weather wasn't perfect.
Above left: But it got better. Above right: And looked quite impressive.
Above left: Someone was cooking a large cloud soup and we watched it boil. Above right: We had a good view back up to Rif. Azzoni after we had descended a wee way. Note the classy pink colour. The hut was full of loud lively Italians celebrating everything that can be celebrated with bubbly, wine, and large wads of white bread with more butter than bread.
Above left: Since the weather had turned out so nice we hung around above the cloud for a while. I found a little via ferrata and went climbing for a few minutes. The town Lecco is somewhere below the cloud. Above right: There were Autumn colours and Autumn animals.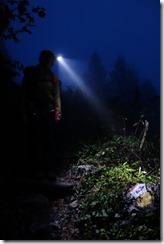 Above: We got out our head torches for the last hour or so in the evening after we descended into the killer fog.
I had a bit of a play on another small via ferrata and then we headed slowly back down arriving at the car after dark. We decided to drive back to Germany directly rather than staying the night again.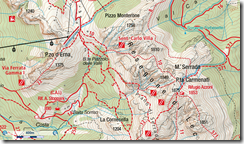 Above: A map showing approximately where we went (courtesy of Kompass maps).
Above: The awesome view across the cloud.