I spent three full days tramping with Chris, Em, and Clare in around the Hopkins and Landsborough valleys.
Day 1:
We walked up the Hopkins Valley from Monument Hut to Elcho Hut. From there we headed up Elcho Stream and up to Chloe Col. We descended to a tarn just above 1500 m camped the night there.
Day 2:
We traversed South-West and camped on a spur some way below Mt Mackenzie.
Day 3:
We climbed Mt Mackenzie descending afterwards to Brodrick Pass. Then Chris, Em, And I headed up Mt Strauchon with many many pitches of a 30 m rope. We descended and collected Clare at Brodrick Hut before continuing a high speed trek out the Huxley Valley back to Monument Hut. We arrived just after midnight and stayed there until the morning.
Above left: We drove down to the Hopkins Valley arriving late in the evening, then drove into Monument Hut the next day, left the car there and walked up the Hopkins, past Elcho Hut, towards Chloe Col. Above middle: We had some fun rock to scramble up as we ascended to Chloe Col. Clare didn't let her 4.5 month pregnancy slow her down. Above right: From Chloe Col we did some traversing and descended a little towards the Landsborough.
Above left: The mist and cloud emphasised the suns rays as we descended. Above middle: We camped near a tarn at around 1540 m above the Landsborough Valley. It rained a little in the evening but fined up the next morning. Above right: We spent the day traversing South West climbing into gullies and back out again. We had great views across the valley to Mt Hooker.
Above left: We had a steep descent before our last ascent to the camp site. Above right: The camp site had a nice view towards Mt Trent. The sky was impossibly blue and looked delicious with the white snow.
Above left: We headed over Mt Mackenzie and down to Brodrick Pass. We left Clare there to amuse herself and Chris, Emily, and I headed up Mt Strauchon. Above middle: The mist came in a little but cleared again after we started pitching. Above right: We belayed across a snow bridge near the top and we had reached the summit. This is just before the snow bridge and looks more impressive than the summit itself!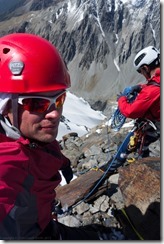 Above: Then it was down down down. We made a speedy descent from Brodrick pass getting down from the pass to Brodrick Hut in 47 minutes. We then had a super speedy walk out to Monument Hut arriving there just after midnight.

View Larger Topographic Map
Above: A map courtesy of www.topomap.co.nz. The coloured tracks show our route. The missing bits show where my GPS battery was flat!
And the trip video:
And a few more photos here, or in the slideshow below.
[gss ids="8528,8529,8530,8531,8532,8533,8534,8535,8536,8537,8538,8539,8540,8541,8542,8543,8544,8545,8546,8547,8548,8549,8550,8551,8552,8553,8554,8555,8556,8557,8558,8559,8560,8561,8562,8563,8564,8565,8566,8567,8568,8569,8570,8571,8572,8573,8574,8575,8576,8577,8578,8579,8580,8581,8582,8583,8584,8585,8586,8587,8588,8589,8590,8591,8592,8593,8594,8595,8596,8597,8598,8599,8600,8601,8602,8603,8604,8605,8606,8607,8608,8609,8610,8611,8612,8613,8614,8615,8616,8617,8618,8619,8620,8621,8622″ options="timeout=3000″]
And a Google Earth file showing the trip with photos.