Leonie and I camped Friday night near Innsbruck. The plan was to run a mountain marathon in the "Innsbruck Alpine Trail Festival" the next day.
On Saturday morning we walked up to the Natterer See where the "K42" race started. The other distances on offer were 15 km, 25km, 65km, and 85 km so it was possible to optimize perfectly the amount of suffering you wanted. The 42 km race officially had 1300 m of climbing.
I started at the very back in the "Genuss" category, i.e. the slow pokes. Leonie started up the front in the ambitious section. The first section was downhill and I overtook a heap of people and then nudged past more on the narrow trails later on. The course was very scenic with sections beside a nice river.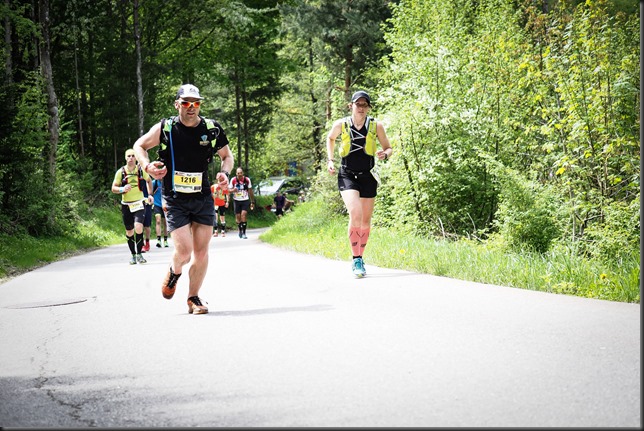 Above: Running with Leonie early in the race.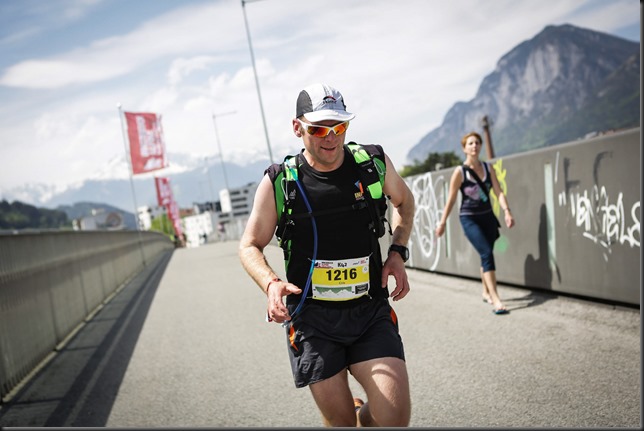 Above: Still looking kind of fresh.
At around 16 km I was surprised to see Leonie some distance in front of me. I caught her up and asked if she was ok. She had stomach problems and wasn't feeling so speedy. I continued and she caught me up at the next drinks station. We ran together again for a bit before I edged away. On the next downhill I started to get little cramping twinges in my calf muscles and at the next drink station Leonie caught up again and then left earlier. I cooled my legs down with a hose and then started the next section through part of Innsbruck. It was again really nice.
We left Innsbruck and headed up towards the hills. It was very warm by this stage as we slowly walked up a hot section on tar seal. I caught up with Leonie again on the next flat and we ran together for a while stopping at the next drinks station and then continuing together. I began to suffer a lot in the last 10 km and the last descent was punishing. In the last 2 km my legs began to cramp up and Leonie ran off in front. I walked a section before hobbling along the flat by the river towards the finish. I spied a mountain biker washing down his bike with a high powered hose and got him to spray my legs in nice cold anti-cramping water. I hobbled across the finish line and found Leonie waiting there.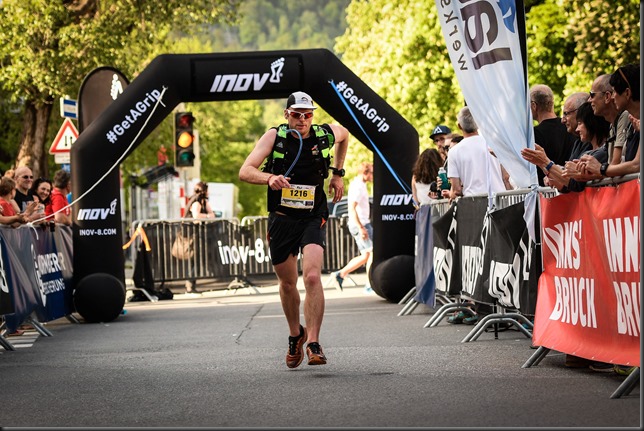 Above: A hobble to the finish line.
Innsbruck Alpine Trail Festival 2018 Time: 04:58:33,9 Dst: 42 km 44 / 154 (Category), 63/267 Men/Women overall