And concussion…
After camping out towards Collingwood, I got to the race start in Takaka early and got my bikes sorted out. After registering there was still plenty of time to faff around so I did that, eating breakfast near the start line.
The race is split into two sections, a road ride from Takaka up to the top of Takaka Hill and the second section, a mountain bike ride along the Canaan downs road and a descent of the Rameka track.
It was drizzling very lightly as the race started. There were a mix of road cyclists and mountain bikers in the bunch to begin with, which was a little annoying. Mountain bikers don't really fit in a road bunch. We dropped most of them after a few kms though and only the very speedy were left. The rain increased and the bunch surged and slowed as some guys put in little attacks. At some point a group of perhaps six guys got up the road. Two others tried to bridge across and I thought I should try something out too so sprinted off the front. The bunch didn't seem to want to chase and I ended up riding with the two others until the Takaka Hill climb began. The breakaway was perhaps 100 m up the road in front of us but there was no way we'd catch them once the climb started.
I slowed on the hill compared with the other two and a few caught me up from behind but I got into a rhythm and was generally pretty happy with my ride up. I dropped another guy who I'd been riding with for a bit and I ended up riding most of the misty climb alone. I descended quickly out of the cloud to the Canaan downs turn off, catching two others just before entering the transition. The sun was out as I swapped to my mountain bike and got moving again. I was feeling pretty good and happy to be near the front.
The gravel road winds and ascends to a saddle and I was starting to feel a little tired as I rode. I stuffed a banana into me while descending from the saddle. I was still feeling pretty good by the time I got to the Rameka. I was surprised how fast I could ride the track compared to my trial ride last weekend. It was fairly muddy and my wheels slid around on the tree roots. I passed a couple of guys and motored on down. Not wanting to get hurt, I had stopped and pushed my bike through some of the little stream crossings but rode two of the harder sections marked with crosses with no problems. One was a steep rutted descent that was pretty slippery with the moist overcast conditions.
I exited the Rameka track and veered left onto the Pack Track. I hadn't ridden this section of track last weekend having not been able to find it so this was the first time I'd ridden it for a few years. There were a series of small insignificant drops. The first went fine but as my front wheel dropped over the second one I registered that things were going to go very wrong. I hadn't put down my dropper as I hadn't thought it necessary and my seat bucked up against my backside and before I knew it I was flying over the handle bars and down off the side of the track. I could see my point of impact rapidly approaching, a bed of rocks and one in particular destined to impact against my head. I remember just before the impact thinking my helmet was not going to do much to shield me, and I don't think it did.
I became aware of someone screaming and realised it was me. I rolled over onto my back and registered that I was still alive and didn't seem to have a broken neck. I felt awful. I lay there for a while until one of the riders I'd passed caught up. He asked if I was ok and I guess he picked up my bike? The colours from my left eye, the side of my head that took the impact, changed to strange greens and reds. I told him my vision had gone wrong and he left to look for a race martial. Or did the next cyclist catch up first? I don't quite remember. I just remember the next rider seeing me on the ground and him being concerned. He was a younger rider. I told him I should be fine and that he should keep going. I lay down to recover a bit longer and I think a few others passed by?
I decided it would be better to get down to the martial asap and see if I could be checked by the first aiders. I got back on my bike and rode the next section being careful to get off and walk any section that looked like it had the potential for me to land on my head again. After an hour or so I was in the Takaka medical centre and being checked there. I had trouble remembering a few things and generally didn't feel that great.
I stayed the night with Katie's mum and only slept three hours as my brain wouldn't switch off. Julian drove me back to Nelson the next day. My sense of smell was playing tricks on me and I had been smelling cigarette smoke and wood smoke when there wasn't any. The following day I flew down to Christchurch to get a CT scan and begin recovering.
What a pity… I had been doing so well and the accident could have been avoided by 1) riding the track beforehand, 2) putting my dropper down (as I'd have known about the small drop), 3) wearing a full face helmet.
I checked my splits from the race results. If I'd have kept going at the rate I had without passing or being passed by anyone I'd have taken out position 8 in the two bike category. What a pity. More of a pity was the damage I may have down to my head.
Quick check that I haven't forgotten pi.
3.141592653589793238462643383279502884197169399375105820974944592307816406286208
No, still seems to be there…
Above: Most of the Milk and Honey race.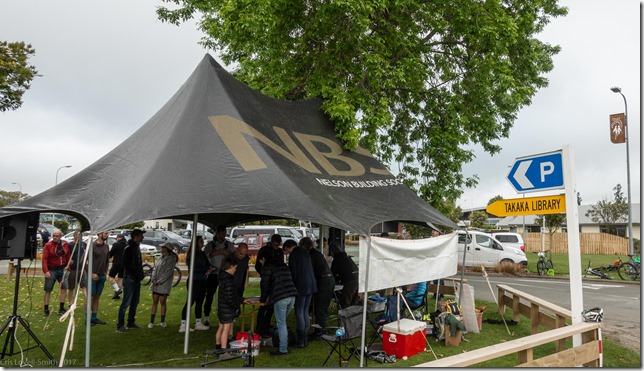 Above: At registration before the crowds arrived.
My splits were 1:22:12 to the Takaka Hill and 46:49 to the beginning of the Rameka. I don't show up in the results as a DNF as my sport ident didn't find its way back to the finish line until later in the evening.