It's been a long time since I rode the Graperide. I entered last year but Covid stopped it happening and my entry was deferred to this year. This is the part where I list all the excuses why I didn't win… After a busy week at work and being ill on Friday I wasn't sure I'd ride the race but as I was to pick up Craig on Saturday afternoon from Picton anyway, I decided I'd head over and see how I felt. I stayed the night at Annu's flat in Blenheim.
I drove out to the start line and hid my car on a side road on Saturday morning. It was a cold clear morning and the weather was supposed to be fantastic. I cycled to the start and lined up early at the back of the 2 hours 45 minutes wave. This seemed reasonable as it was 10 minutes slower than me 2009 winning time. This was my folly. The sign was misleading. Many many slow looking people lined up in front of me and instead of letting everyone off in waves dictated by their signs they let people off in small bunches of perhaps 60 people. Grrrr. I waited and waited and waited as the people in front slowly started. Then the people who were pushing in the side snuck in front and started too. Anyway….
I crossed the start line and rode hard to the front of our bunch of slowpokes. There were a couple of faster guys and we worked together much of the way to Picton until nobody at all seemed to be keen to work. At the little hill into Picton I rode off the front with a couple of guys. Then again out of Picton onto Queen Charlotte drive I rode away with one other guy. By this stage it was really nice and warm and the views down into the sounds were amazing. The ride along QC drive was really nice although not very fast. I rode alone mostly catching some stragglers and passing them. Later slightly before the turn off to Linkwater a bunch began to form and we rode very slowly into a headwind until the last climb before Havelock. I rode to the front with a couple of others and we increased the pace dropping the bunch before descending towards Havelock.
There were five of us as we began working together back towards Blenheim. One guy dropped off early. We worked well, regulating our pace so as not to drop anyone else. We were riding a good pace but as we came to a hill two guys powered up behind us. We jumped on and one guy put in an amazing effort and towed us for the next 10 minutes at over 40 km/h. I wish my legs would let me do that. I don't seem to have much power these days. My legs began to feel a bit cooked. We rotated some more and then I sat at the back until the last bridge where I took another turn. We turned off the highway and it was a couple of km to the finish line. Nothing much happened in terms of sprints.
A nice ride all up but an aggravating start. Given the poor starting position I wasn't too much slower than 2009, at around 20 minutes slower. The course is also slightly different from 2009 but I'm not sure if it's longer or shorter.
Graperide 2021 – Time: 2:56:16, Dst: 103 km, Overall 103/524, Category: 11/21 (M35-39)
Finish result pdf 2021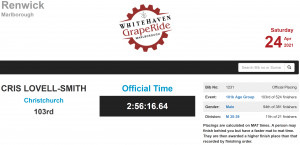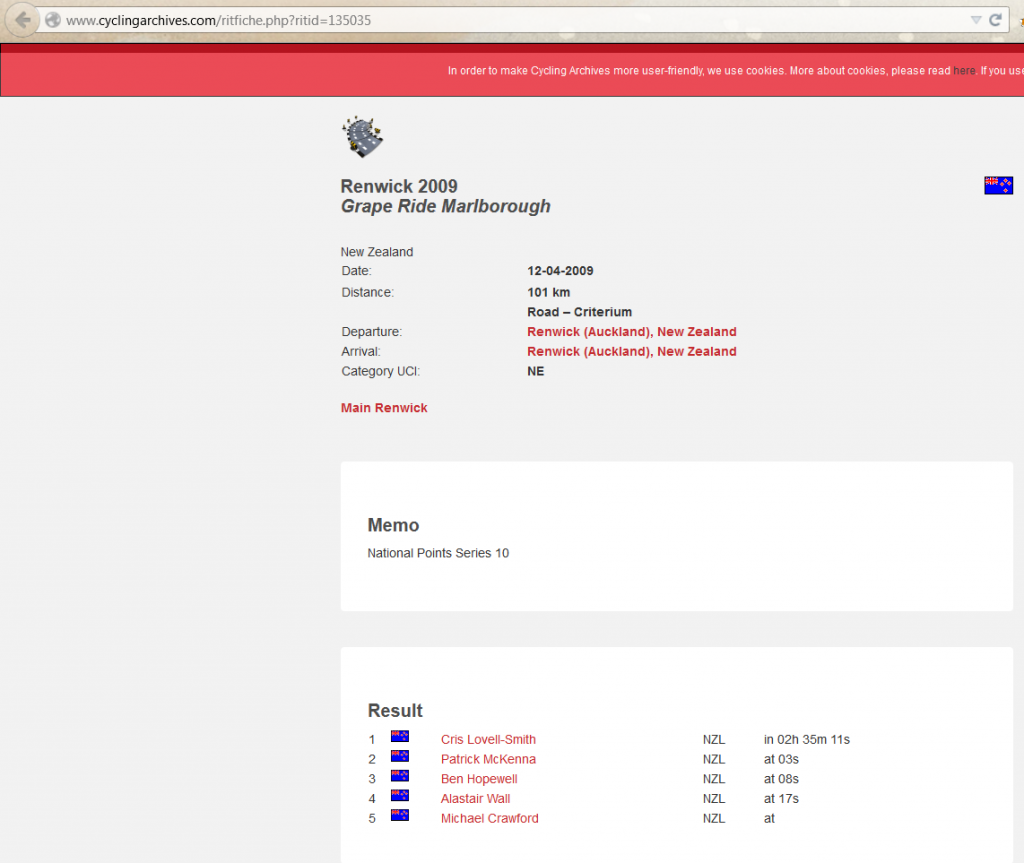 Above: 2009's result was faster but I also had a much better start, had trained more, and was 12 years younger… Not sure how much of a difference age has made. These are the results before they were mysteriously altered some weeks later.