After two fairly lazy days we got up early and headed from our campsite in Porto back up to the pass we had driven over yesterday (Col de Vergio 1467m). We left at 8 am and since we were on the West side of the island the sun took a while to pop up over the mountains, which was good. We took advantage of this and the first couple of hours of riding were very pleasant. The rode wound its way up beside the amazing looking canyon of red coloured rock until we lost view of it once we entered the pine forest that the road climbs through to the pass. After about 3 hours of enjoyable riding and an ice cream along the way we were there.
We locked the bikes at the pass and grabbed a bite to eat. Then we headed off for a little amble into the mountains. The mountains above the pass were a jumble of slabby rocks. Very impressive. We clambered around on them for a bit until we got to a good vantage point where we could admire the view back over to the lake near where we camped on Day 2. A wander back down to the bikes and then an almost 1500 m descent back down to our campsite at sea level in Porto.
Another hot day but very bearable due to our cunning leaving-early trick. Will have to try that one again.
Above left: We headed off back up the pass we had driven over the day before. Above right: These little pigs were looking for breakfast.
Above left: We rode back up the gorgeous gorge. Above right: Posing all the way.
Above left: We stopped in a small village on the way up for a bite to eat and an icecream. There we discovered this interesting stair case. Above middle: Two bikes and a door. Above right: This was the view back towards the town.
Above left: And here's a particularly religious bit. Above right: We reached the pass and dumped our bikes and went for a bit of a stroll in the hills.
Above left: The hills were filled with funky rocks and we had a view back towards the lake near we had camped. Above right: Back at the camp site we went for a wander in the evening.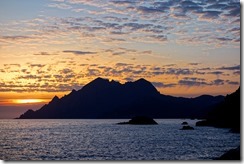 Above: And found a nice sunset and some rocks to scramble around.