We crawled out of our tent and got ready. It was cold in the valley but once we crossed the river and climbed a little we reached the sun. It was a perfect weather day. Even more perfect than yesterday. We headed up to Galdhøpiggen, the highest peak in Norway (and not at all technical) with a large horde of other tourists. Most were very slow so we passed them.
The view from the summit was very nice. Steep cliffs and glaciers. We ate our Lom bread further down and arrived back down at the car park 6 hours after we started. After packing up our tent we had a delicious descent back down the gravel road to the main road. It was probably the most enjoyable riding of the whole trip. Lots of rolling, nice and warm, great scenery.
We rode back into town arriving after the bakery had closed but luckily one of the women closing the til out the front let us in and I came back out with two loaves of fruit and nut. Victory a second time.
We camped down by the lake in Lom in the evening and did battle with the mosquitos.
Above left: We headed up to Galdhøpiggen with the hordes of tourists doing the same. It took about 3 hours to the top at what was a fairly easy pace for us. Above middle: The views from the summit were nice. There is quite a drop from the summit to the glaciers below on one side. The route that we followed was not at all technical though. Above right: We headed back down to Lom from Spiterstulen after climbing Galdhøpiggen. The descent was nice. The gravel road was mostly smooth with a few potholes to make things a bit more interesting.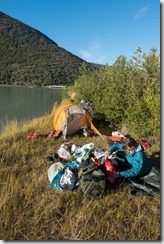 Above: We found a spot down by the river just outside of Lom to camp for the evening.