Johannes, Ari, Angelique, Clement and I headed down to Arco near Lago di Garda for a few days of climbing. The weather forecast was unfortunately not good but we made the most of it.
On Saturday we headed to a climbing area near Nago. Shortly after finding the crag it began to rain but luckily shortly after that the sun came out again and we climbed a few nice routes in the sun. After a big supermarket buy up in the late afternoon and some food back at our accommodation we headed out again by foot to check out another crag. We didn't climb but just window-shopped the routes. Many of them looked quite hard.
The weather was less than optimal on Sunday but we went out all the same and found a very easy ferrata route. We wombled up to the summit of a peak, sometimes passing through old World War One tunnels before heading back down.
Above: Tunnels from the war.
Above: Our route up the hill.
On Monday, Johannes's Birthday, we headed to Mori and did the Via Ferrata Monte Albano. It was pretty funky with D sections. We all managed it without problems and then lazed around in the park below the route for a while. There were a bunch of cool boulders that we climbed. It was then off to the lake for us for a while.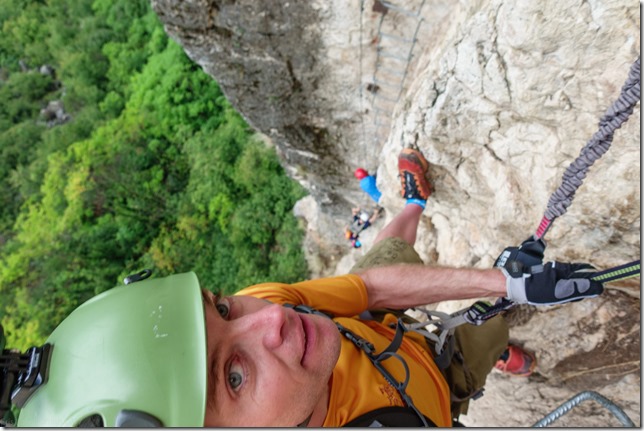 Above: It wasn't a good place to be if you're scared of heights.
via_ferrata_monte_albano_klettersteig_topo
We went climbing again in the evening at another crag with easy routes and a good view out across Lago di Garda. We climbed into the evening until it was too dark to continue. Then we headed into Riva del Garda in search of food with the sound of the Cat Empire playing on the car stereo. After dinner hijinks were played around the town for some time.
Above: The crag not far from the lake and we had a good view down to it.
The weather on Tuesday was decidedly rubbish so we packed up and drove back home stopping in Imst for some indoor climbing.