The weather forecast for the trail run in Innsbruck this year was not good. Rain was predicted and low temperatures. Leonie and I arrived at the Natterer See an hour before the start giving us enough time to take posy photos.
The race started at 12:30 pm and we headed off at a good pace. I felt tired and not as frisky as last year. I kept up with Leonie for a bit but it was clear that she was much friskier then I was.
After perhaps 10km I picked up a bit. The cooler temperatures suited me well and as the predicted rain hadn't arrived it was quite nice. My legs felt ok but they started to cramp a little after the descent to the drinks station in a town that the race passes through.
Continuing on, I thought I'd finish with quite a good time but I had forgotten how hard the last 10 km are. Lots of ascent and steep descents. I was starting to cramp a bit on the last descent but held it off by hobbling. The atmosphere at the finish line was great and it was nice to be cheered on while running the last 50 metres to cross the line.
I was about 9 minutes faster than last year which could possibly be due to the good conditions rather than any improvement in fitness. Leonie had a good time of 04:32:42,9. I came in 17 minutes later!
Above left: Getting something to eat during the race. Above right: Sprint finish.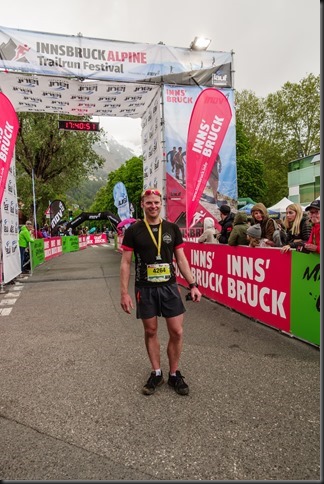 Above: I had a good race. The conditions suited me and I was a bit faster than last year. Leonie was much faster than in 2018, however.
Innsbruck Alpine Trail Festival 2019 Time: 04:49:32,9 Dst: 42.1km Ascent: 1300m Category place: 74/145 Overall men: 113/294