Like the last few years, I spent a week or so in Golden Bay with my family. This year, Simon and his family had a house in Tata beach and we spent a day out at Wharariki together and another one at Totaranui. I had forgotten how nice Wharariki can be. There was no wind and the longer we stayed the more sun came out. Simon and co left earlier and I walked around the beach taking photos and trying not to surprise seals. The drive back was nice too and I headed back to Tata beach for sausages with the Smalley's. On the Totaranui day, Dad and I set off from Wainui in the kayaks. It was sunny but the wind was stronger than we liked. As the day wore on the wind dropped though until we had very favourable conditions for kayaking around Separation Point. We had a picnic lunch at Mutton Cove and kayaked the last bit to Totaranui where we met the others soon afterwards.
Before the Smalley's arrived and before the nasty weather, Holly, Toby, and I spent a day climbing at Paines Ford and visiting the Wainui waterfall. I started that day with a small run up to the junction to Gibbs Hill.
I also spent a couple of days in Nelson catching up with Julian, and Georgia and Pat.
Time for some pictures.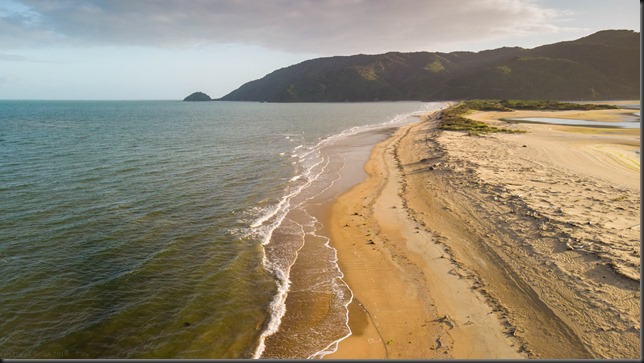 Above: As has been the case for the last many years we spent some time up in Golden Bay in December 2019. We rented the same house in Wainui as has become a custom.
Above left: Holly, Toby, and I went climbing for a few hours at Paines Ford. Mostly we just made funny faces. It was nice to be back on the rock for a few hours. Above right: Holly, Toby, and I went for a walk up to Wainui Falls.
Above: Holly and I went out for a kayak to the arch near the Tata Islands and saw a few seals on the way.
Above left: A seal taking a nap? Above right: Another selfie. I wore one of the aging life jackets that have been in the family since my childhood.
Above left: This is the view into Wainui Inlet from the air. Mum went for a kayak getting washed up on the sand bar. Above right: I went mountain biking in Nelson while I was there.
Above: The rock formations around the beach are very funky.
Above: I stopped along the coast on my way back to Golden Bay from Wharariki.
Above left: Dad and I kayaked around the coast to Totaranui. Above right: The wind dropped and it turned into a hot and still day as we kayaked to Totaranui.
Above: We saw lots of seals swimming and playing in the water as we paddled along the coast.