I am in the Cinque Terre (five lands) National Park in the town Manarola in Italy. It's a beautiful warm day and I've been swimming in the Mediterranean sea. The water is amazingly warm and it must be very salty as I float high in the water. It's amazing how free sunny warm weather can make you feel especially when you can cool off in the water.
Above left: Swimming in the Mediterranean sea was really nice and much warmer than swimming in Norway earlier in my trip. Above right: View of Manarola looking back from the track that runs along the cliffs by the sea.
Below left: The pastel colours of the houses in Manarola. Below right: A tree that I sat under.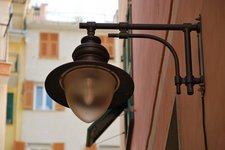 Above: A light in the town.
Manarola is one of five small coastal towns in the very small national park. The towns are Monterosso, Vernazza, Corniglia, Manarola, Riomaggiore. A railway line runs between the towns and for the sum of 1.70 Euros I caught the train from La Spezia outside of the park to Manarola. Houses in pastel colours are perched on the cliffs. American tourists roam amongst the cafes. It's the shoulder season now which is a good thing as I wouldn't want anymore people than there already are.
[Morcheeba – Enjoy the ride] [ATB – The Autumn Leaves]