Leonie and I spent the weekend in Oberstdorf. The weather was pretty rubbish but we still managed to sneak out for half a day's skiing on Saturday at Söllereck. Katha and her brother Nico joined us. For the first couple of hours it snowed and snowed and we could see very little but after it stopped we had a few good runs down the mountain. Leonie and I ate out in the evening with Kathi.
Above left: It's snowed heavily on Friday so we went for a wander around town stopping at the Holzofen Bäckerei for some delicious olive bread and tomato bread. Yum. Above left: The afternoon was spent wandering up to the Seealpe at Nebelhorn and sledding back down again.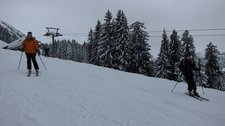 Above: We went skiing at Söllereck on Saturday with Katha and her brother Nico. Here's proof.
Above: It wasn't long until I started being obnoxious.
Above: Fun with the GoPro.
Above: More fun…
Above: Still more fun…