This year's Jungfrau Marathon can be nicely summed up in one word… Ouch. Actually that probably sums up the Jungfrau Marathon in 2011. Mega Ouch would be a better way to describe it this year.
Leonie and I headed to Interlaken on Friday night in the rain. Happily it stopped as we arrived and we pitched the tent and crawled inside.
Saturday looked promising – no rain, and a clear sky. We registered and got ready for the race. At the start line we positioned ourselves around the 5:30 mark amongst the 3000 starters. The race began and we jogged off. I was feeling tired from the gun, which was not ideal. Leonie, on the other hand, seemed to be feeling frisky. We ran together for the first 14 km and then I stopped to relieve myself behind a log and that was that. Leonie zoomed off and I didn't catch up to her until I found her waiting at the finish line.
But anyway, my legs were already ruined after 16 km. My quads were very sore and I was hobbling along. By Lauterbrunnen I began loosing lots of places until the 25 km mark where the course ascends steeply. Without the impact on my legs I was able to ascend quickly as if I were riding a bike, and I must have passed perhaps 100 people. Unfortunately I still hadn't caught up to Leonie, and I had a glimpse of her ahead as the course double backed on itself after a drinks station – with perhaps a 10 minute lead.
Anyway I hobbled on. It was much flatter again so I began to loose some places although most people were walking by the time we went through Wengen. The 5:30 pace setter kept passing me, then I'd pass him again. Finally we arrived at the last steep narrow ascent. The course splits in two and half the field is directed along a ridge and the other up the side, meeting again 2 km before the finish line. To the right there's an awesome view of glacial snow below the Jungfrau. The sun was shining and the view was good even if my legs were not.
I passed a bunch of people again on the steep ascent, before hobbling to the finish line on the Kleine Scheidegg below the North face of the Eiger. The gun time was approximately 5 hours 24 minutes as I crossed the line. Leonie was waiting after finishing in a speedy 5 hours 7 minutes. Annoyingly I was 5 minutes slower than last time but considering the lack of training I guess that's ok.
And now for the excuses. It seems that a season of road cycling isn't particularly good preparation for a marathon. The impact of the first 25 km of flat running on a mix of tar seal and gravel destroyed my poor soft road cyclist legs. It's interesting because as soon as it got steep it was more like cycling up a steep hill. Too steep to run so only possible at a fast walk without any of that nasty impact.
I also haven't done any running since the Inferno and that race doesn't have that much flat running. Perhaps my legs also had a bit of the Eddy Merckx Classic road race from last weekend still in them too. So all-in-all a far less than optimal training and race plan leading up to the marathon. But that's ok, considering that, I was quite happy with the result.
My quads were so destroyed I couldn't bend my legs properly after the race and descending from the finish line was difficult. Leonie showed off by casually bending her legs and grinning. She helped me down and we collected our bags and then hobbled back up to the finish line to take some photos. The Eiger was looking impressive as always. Mönch and Jungfrau were covered in cloud with little enticing bits of snow showing every now and then.
We headed down in the crowded train later back to our camp site.
Interestingly enough my legs were fine when I went for a road ride on Monday, a couple of days after the race. I guess it goes to show that 'cross-training' can help but doesn't replace the real thing.
Above left: It was a nice clear day on race day. A big improvement on the Inferno half marathon this year. Above middle: Leonie kitted herself out with icebreaker top, road cycling arm warmers, head banging black metal on her headphones, buff, and a silly hat. She decided not to run with the bag. Perfect. Above right: I was just able to hobble back up to the finish line after the race for some posing in front of the Eiger North Face.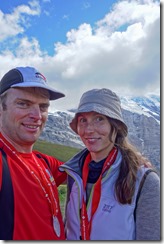 Above: Perhaps it was my chin flab that slowed me down. Maybe it had nothing to do with my pansy legs.
Jungfrau Marathon 2014 – 42.195 km / 1829 m vertical, 5:21:48.7, Place 1604 / 3047 Men
Leonie – 5:07:01.03 212 / 943 Women
Jungfrau Marathon Course 2014 Jungfrau Marathon 2014 – Men Jungfrau Marathon 2014 – Women
Map and results above courtesy of Data Sport and Jungfrau Marathon.
Strava has something to say: