We snuck off to Austria to do a via ferrata in the hills near Gargellen.
Above left: We set off in a light dusting of snow after being very lazy and taking the gondola from Gargellen into the hills. Above middle: Leonie wasn't too keen on the ascent so we found an easier way up and joined the via ferrata again later on. Above right: She still had some spooky bits to do.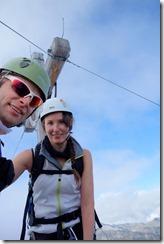 Above: We made it to the top with smiles.