Leonie and I entered the Lauf is Gsohl again this year at short notice. It's a short 3.4 km run with around 500 m of climbing that starts in Hohenems in Austria. The race took place earlier this year and it was warmer than last year. This might have helped me as I was a bit faster this time around finishing in 25 minutes 50 seconds. Just like last year I started fast and then died on the steep section in the middle. I managed to run the last section again and passed about 5 people who had overtaken me on the steep part. I even had a nice sprint with a guy right at the end, which I won. Muhahaha. I expect this was due to my facial expression.
I finished in 25:50:00 (20th from 62). Leonie finished in 30:36:00 (7th from 22), eight seconds slower than last year.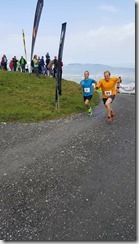 Above: My facial expression definitely helped me win this sprint to the finish line.