We awoke to rain.
We hung around in the hut until around midday when we decided we couldn't avoid it any longer. We then had a wet walk out to our bikes. I stopped briefly to pick wild blueberries and proved by not dying that they were in fact blueberries.
We then rode down the hill to the fiord where we caught a ferry across to Eisdal. We cycled a way up the hill looking for cabins but they were all full so we set up camp beneath some trees at a campsite and warmed up with long showers.
A Belgium family took pity on us and invited us in for dinner. We cooked in their kitchen and then swapped stories at their table for a while. Very nice of them.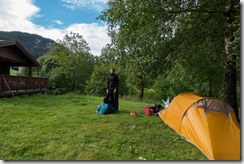 Above: This is not what it looked like. The blue sky appeared the following morning and vanished not long afterwards.