We arrived at our destination near Glomfjord about midday and parked the car on some precarious ice. We headed off up into the windy mountains towards a little mountain hut. We had left in a rush without water and we were soon thirsty. Emily employed the devious trick of licking her skis. As we had a rest small drops of water formed as the snow on her skis melted in the sun. Later on we gave up and decided to use the cooker to melt enough snow for a warm chocolate flavoured with subtle undertones of last night's curry burnt to the bottom of the billy.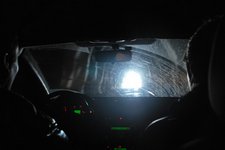 Above: We drove up a very icy road and through a very icy bumpy tunnel and parked on a sheet of ice. Take note, ice.
Below: Emily drinks the drops of water forming on her skis. We foolishly left with only a mouthful of water in one of our drinking bottles.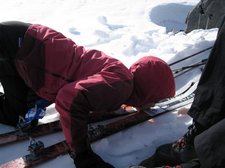 The wind was really strong as we made our way across the large glacial plateau towards the hut. We took no more breaks as stopping for only a few minutes was a good way to get cold. There were nasty looking clouds brewing and we were keen to avoid any bad (worse) weather. The wind was so strong in places that although it was blowing from the side it caught our packs and we could use them as sails to coast along on our skis.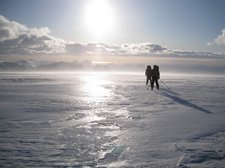 Above: Chris and Emily skiing across the glacier in the gale force wind.
Below: Short video of us crossing the glacier.
Eventually we reached a delicious well-kept little hut. Yum, yum. We lit the fire, switched on the gas, and settled in.
Above left: The Takeheimen hut at sunset. Above right: Chris and Cris jump for joy after arriving at the hut.
Above left: Sunset from the hut. Above right: The northern lights seen from the hut. Oooh very pretty. Chris managed to snap this photo around midnight.
Below: Pan of view from the hut.