The second day of the Tour Transalp was much nicer than the first. Instead of driving rain we had sunshine.
We started in Imst and again due to our second class status as two-day-entrants we were right at the very back. The first 4.5 km were neutralised but as is usually the case with neutralised starts the field was strung out over many kms and by the time the race started the good bunches were already gone. We did our best to try and move up the field a bit anyway and spent the first 45 minutes or so passing groups.
We decided we should save our energy and stay where we were but after the bunch wombled along at under 30 km/h we decided to go searching up the field a bit again. At some point we agreed with two other riders to work together and spent 15 minutes or so riding hard together which was much more enjoyable than wombling.
We were mindful that we still had to climb Timmelsjoch though so after stopping at a refreshment station we rode at a more leisurely pace until the climb. We cruised up the pass arriving at another refreshment stop at the top. The majority of the descent was pretty nice with fun switchbacks and long straights. Unfortunately there were two slow cyclists ahead of us causing a large traffic jam near the end of the descent. It took 15 minutes or so before we could pass and by that time many people had caught us up so we had a large group going into the last 30km or so.
Markus and I worked at the front for quite some time thrashing it out on the flat. It was great. Exactly what fun racing for me is about. We took turns with a strong British female team. After a while I decided we should let some other guys do some work and we dropped back for a bit. I stayed in the first few at the front but made sure I didn't pull.
It was extremely hot so low and we really noticed it as we hit the next hill. Markus and I stayed near the front as we ascended and then descended through tiny weaving Italian roads. The last part of the race was along a narrow cycle path. I ended up at the front again and towed the Brits along for a while before I noticed that Markus had dropped off with the rest of the group. I was eager to push it to the finish line as my legs were still feeling frisky but Markus wasn't feeling so fresh so we cruised.
A very nice stage and so much better without rain. Leonie and Angela turned up to the finish not long after we arrived.
We got place 5th and 6th in around 5 hours and 21 minutes. I felt like my legs had worked well but it doesn't really say much as we had such a handicap to start with.
Tour Transalp 2017 – Stage 2 Schnupper – Men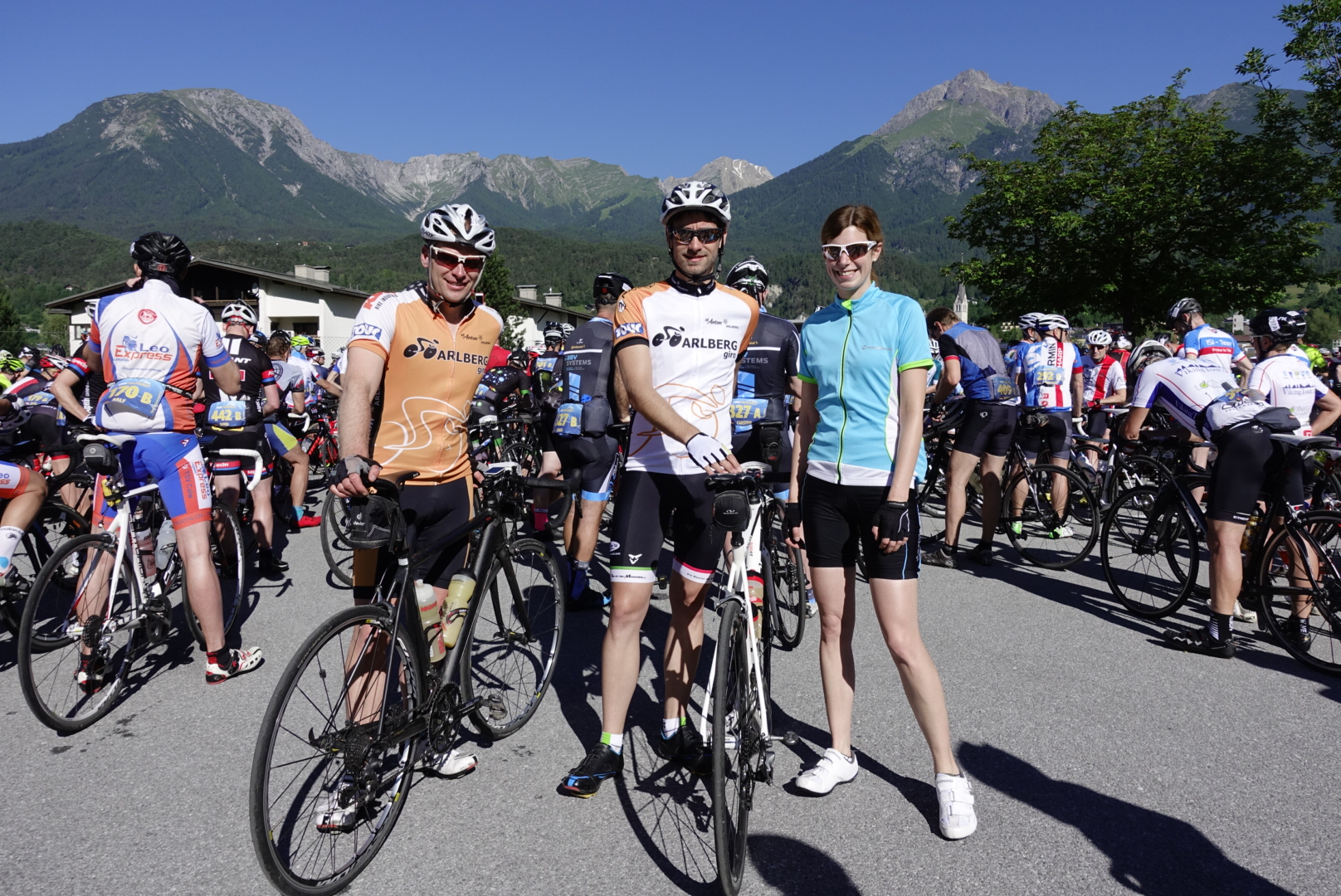 And now for some video taken using my Go Pro Hero 5 mounted to the handle bars.