The conditions weren't fantastic but we decided to do a day's seakayaking in Queen Charlotte Sound. We launched from Anakiwa and kayaked up the Grove Arm to Lochmara Bay where we abandoned ship and had hot chocolates at the cafe there. We headed back the same way with a more enjoyable tale wind.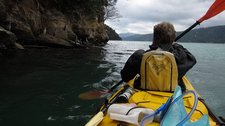 Above: Kayaking in the Grove Arm.
Above: The map on top of the kayak.
Above: Setting off from Lochmara Bay after hot chocolates.
Above: Using the GoPro for what it was made for.
Above: Kayaking with a tale wind.