We are back in the hills in another DNT hut. It's cosy and warm with candles and a fire.
The day started without rain and we decided to do some walking. We spent the morning packing and trying to work out which hut to go to. The issue was where to get the DNT hut key. We decided to head to the tourist misinformation centre where we were told we didn't need a key as the hut was open for the summer. Great. We headed back to our camp and organised to leave our extra bags with the campground owners. They were not so sure about the whole key business and ended up driving out to try and find a DNT key for us. Did I mention Norwegians are extremely friendly?
Anyway we headed off on our bikes early in the afternoon up a valley to Morkri (written with a funny o). We dumped our bikes at the start of the walking track and set off a steep trail. Steep steep steep for 800 vertical metres. There was a nice waterfall along the way and a good view down the valley. Then it was along the side of a lake to the hut. It turned out that the hut wasn't usually unlocked as the tourist misinformation people had told us. However, luckily there were two Germans and their dog (presumably a German sheppard) there. The Germans are everywhere…
They lent us their key and we opened the second smaller hut (actually a hobbit hole in disguise). The doors where extremely low which took us some bumping of heads to remember. Still it was a nice little hut and Leonie got a fire go and we cooked dinner on it.
To end a good day the sun came out for the first time in a few days. Yay sun.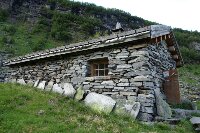 Above: The DNT Fast hobbit hole… I mean hut.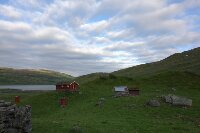 Above: View towards the larger Fast hut. Note some blue in the sky.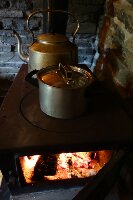 Above: Cooking dinner in the Fast hut.