Leonie and I went for a wander in the hills before the race on Sunday because surely that's what my legs needed and besides it's pretty boring to watch cycle races.
We walked up Litnisschrofen 2069 m. It was nice and sunny but I was feeling rather lazy and Leonie had to motivate me to keep going. Once we neared the top it got more exciting with scrambly bits and suddenly I didn't feel quite so tired. A nice little stroll.
Above left: We went for a walk up Litnisschrofen the day before the Tannheim Radmarathon. Above middle: Leonie couldn't resist showing off her breasts as we walked. I couldn't resist photographing them. Above right: It got exciting near the top.

Above: The view was nice and the weather was good. Above right: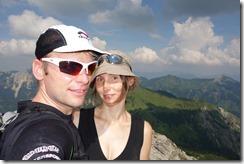 Above: We posed at the summit.
Above left: Then there was more excitement on the descent. Above right: I was feeling fairly lazy before the race so had a little power nap on the way down.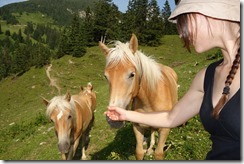 Above: We found some nice horses on our way down.