The weather was very good again and so we decided to stay another day in the park. After all we had an extra day of food after our unplanned stay in the Planika Hut. We headed off from Bivak pod Luknjo to the North to the saddle Dovška vrata. There was a little bit of snow on the way but it was pretty straight forward. We had some food at the saddle and watched the fog begin to climb up from the valley below.
Above left: We went for a day walk from Bivak pod Luknjo up into the hills to the North. We had a great view over to Triglav as we ascended. Above middle: We had a bite to eat at the saddle Dovška vrata at which point cloud started to fill the valley below us. The approach from the North has a few roped sections. Above right: It wasn't far to the summit.
We then headed South to a peak named Bovški Gamsovec. I had walked in the other direction with Chris and Em in 2009 but the visibility was so low that I couldn't remember much of the surroundings. The route was quite exposed if you strayed from the path but it was wide enough not to be a problem. There were steel ropes and steel pegs in places. Leonie found the exposure not so fun and decided to skip the summit. I walked the last few metres to the summit before joining her back on the track heading down to the Luknja pass.
Above left: The summit was a wide flat spot. Behind me is the mountain Razor. Above middle: The view to the South is towards Triglav and is very impressive. Above right: We had a nice day walk to Bovški Gamsovec and had great views into the valley and across to Triglav.
I romped down the scree back to Bivak pod Luknjo in the afternoon and we prepared soup and drank tea like civilized types.
Above left: There were plenty of mountain goats along the way including these two who didn't seem to bothered that I was there. Above right: We relaxed back at the biv in the afternoon. There was a big electrical storm in the night with one lightning strike happening very near by. Did it hit the biv?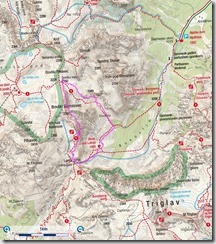 Above: A map of our day walk (Kompass Wanderkarten). The GPS track seems to be a little bit off but you get the idea.
Above: A short video of our adventure.