Kerry and I headed up to Fellhorn for a day's skiing/boarding. The snow was nice, the weather was nice and I felt speedy. At lunch time Branjo joined us and we headed over into Austria and back again. It was fantastic racing down the slopes accompanied by good company.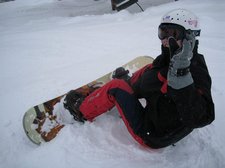 Above: "Hello, I am Kerry. I like powder.".
In the evening we went out for dinner with Branjo and Nils to Essenza the Italian restaurant across the road from the NTC shop at Nebelhorn. We spoke a mix of German and English with Nils and I acting as translators for Branjo and Kerry.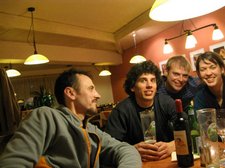 Above: Branjo, Nils, myself, and Kerry at Essenza.