Today we did a small ride along the tracks running through the cliffs above the lake and then up to Lago di Ledro. It was as hot as ever. We went swimming in the awesome turquoise water and lazed for a bit. My rear disc brake was complaining in a squeaky voice as we headed back down. Emily suggested I try to bend it back into shape and without thinking I foolishly grabbed the disc. A sizzling sound and I had a nice disc tattoo on my fingers. I splashed some water on to the disc and it evaporated immediately. Silly silly me.
Above: Going up and going down. The track that winds along the cliffs is very narrow in parts with huge exposed drops to the lake below. In parts it has eroded away and there's nothing stopping you from riding off into thin air.
Below: That's a wrap, and that's dinner.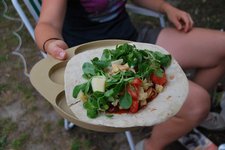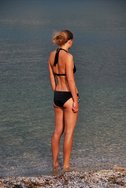 Above: We started most days with a swim at the lake and after riding we would have another swim. The first swim of the day was nice as often there were only a couple of people in the water.