It had started raining in the night and the weather in the morning was a bit nasty. I packed up my bike and gear and said goodbye before heading off up to the top of Furkapass in my wet weather gear. Dieter and the Kiwis piled into their two cars and passed me later on. I descended from Furkapass and turned right and rode over Grimselpass. The weather cleared as I ascended. I sat in the sun on a hydro dam on the other side of the pass and devoured some toblerone that I had pilfered from Chris and Emily's supply. I had a deliciously long descent in the sun. I cranked along down the valley and along the side of the lake until I reach Interlaken arriving an hour before a rain storm came. After being shafted by the Swiss train prices I was on my way back to Freiburg.
Above left: At the top of Furkapass (2436 m). Above right: At the top of Grimselpass (2165 m).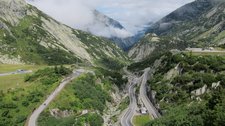 Above: Switch-backs on the descent of Grimselpass.
Above: Descending from Grimselpass.
Above: Riding along the lake to Interlaken.
Furkapass to Interlaken via Grimselpass – Time: 04:07:20 Dst: 90.61 km Avg: 21.98 km/h Max: 65.86 km/h