After the Tour de Kärnten finished we headed across to Slovenia and camped near the Soča river.
We went for a ride up to Vršič Pass pass once we arrived, and then went for a wander along the Soča .
Above left: After the Tour de Kaernten we headed to Slovenia for a few days. We started by riding up a nice little pass from Trenta. Above middle: In the afternoon we went for a walk along the Soča river. Above right: Triglav national park is very nice.
The following day we did some tramping in the hills and I followed this up with a short ride in the evening.
Above: A cooking video is always good.
Above left: The mountains still had some snow. Above middle: The next day we went for a walk in the national park and found some snow. Above right: Mmm snow.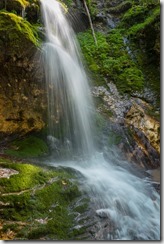 Above: Mmm waterfall.
Above: Leonie in the snow.
Above: Our wander took us on a little loop into the national park.
Then the day after we went climbing and then drove to Austria.
Above left: We did some climbing on Sunday before driving across to Austria. Above right: The motorway was jammed so we spent some time hanging around and did a via feratta route.
Above left: I decided I could keep warm with just my chest hair. Above middle: Isn't clipping fun? Above right: We checked out a castle ruins and sheltered there from the rain later on with some cake.